Get Your Pets Tested at Home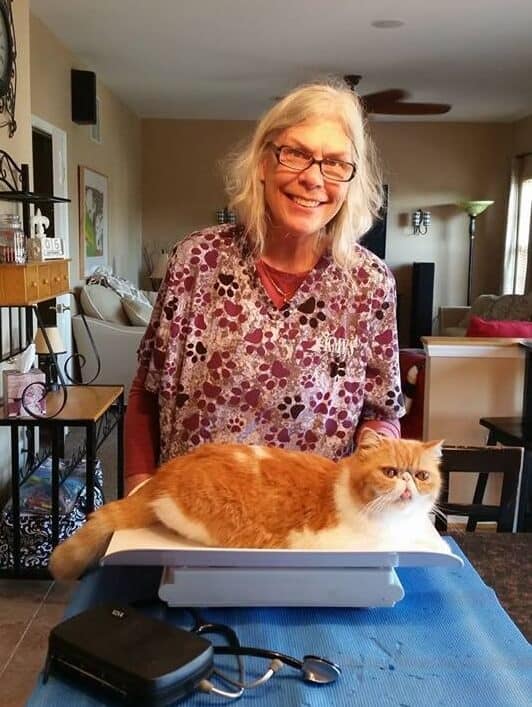 A pet in his or her home is a more cooperative and less stressed pet. That's why Keysville Mobile Veterinary Services offers a wide variety of diagnostic tests that can be carried out inside your home:
Blood sugar

Blood pressure

Glaucoma

Feline leukemia

Feline AIDS
Blood, urine, and stool samples are collected from your pet at home. We then send the samples to a trusted commercial laboratory.
Results are usually available within 48 hours.
"The most compassionate, professional, affordable, and flexible veterinarian business in the World! We love you!"
— Liz Haff

"Friendly, compassionate, caring and wonderful people. Dr. Cornett is the best!"
— Constance Warehime Welsh

"Dr. Carolyn Cornett provides excellent and professional care for our family cat. She is approachable and easy to talk to. She answers all of our questions thoroughly. We are extremely satisfied and like the fact that she comes to our home to provide personal treatment for our cat in her own environment."
— Anna and Mike

"With complete faith and trust in their loving knowledgeable care, I highly recommend Keysville Mobile Vet to anyone who wants the best care for their furry family members with the added convenience and comfort of staying at home."
— The Robinson Family, Carroll County, Maryland

"We would highly recommend KMVS to anyone looking for outstanding care for their pet(s)."
— Sherry

"Rufus, Lulu, and Natasha think it's great that they no longer have to fight to get in a carrier to go to the vets.  Dr. Cornett and Jen come to them for monthly nail trim and their annual check ups. "Mom" especially thinks it's great!"
— Nancy Norris

"I became acquainted with Keysville Mobile Veterinary Services and Dr. Carolyn Cornett about two years ago when I responded to an advertisement. I was delighted to learn that she routinely made "house calls". I found Dr. Cornett to be very professional knowledgeable and reasonably priced."
— Anonymous

"When my 12-year old dog "Tassie" had a stroke last year after normal business hours, Dr. Cornett responded immediately dispensing multiple injections, took blood samples and started an IV. She returned late that evening, initiated another IV treatment and counseled me on my various options allowing me to select my preferred choice. It was obvious to see that Dr. Cornett was sensitive and lovingly cared for Tassie and I am honored to share my unqualified endorsement. On Tassie's recent birthday, Dr. Cornett showed up to deliver a birthday gift for Tassie - a new toy!"
— Richard French

" Dr. Cornett and Joan have been wonderful to work with as we navigate having a new puppy! They are compassionate and their love for animals shines through in their care! They came highly recommended and I'm grateful for the home care as my family schedules are sooo busy this alleviates that stress."
— Jennifer DiDio

"We are so lucky to have such a caring, excellent, and personable mobile vet so close by. Dr. Cornett and team are so good with our cats who are much calmer not having to be put in a carrier and car and taken to a scary clinic. The prices are also very reasonable."
— Patricia Genetos

"The team showed up on time. My dog thought they were new friends who came to play. He was relaxed the whole exam. They brought everything a Vet office has with them. It was a very good experience for both my dog as well as me!"
— Carol Horton

"Kind service and prompt attention!! Everyone was great!!!"
— Matt Tegeler

"My cat had a great visit with Dr. Carolyn and Joan from Keysville Mobile Vet. Great service, very prompt and very attentive with my cat. Would definitely recommend and use them again. Thank you for a great experience."
— Chris Rau

"I have a 15 year old dog that does not travel well. Having Keysville Mobile come to my home has been great. Buster gets the care he needs in a familiar environment and does not stress. The vet and assistant both put my dog at ease."
— Susan Gruentzel

"Carolyn and her team are the best! So compassionate, kind, thorough and their follow up and communication are on point! We highly recommend them!!"
— Tracey Siedel

"My prayers were answered the day my Shadow had her first appointment with Dr. Carolyn Cornett.
While numerous other veterinarians could not tell me what was wrong with Shadow, Dr. Cornett got Shadow's diagnosis of Addison's Disease correctly on the first visit. The other veterinarians did not even think of testing Shadow for this medical condition. I can only speak in superlatives when talking about Dr Cornett. She is the best, most caring, most skillful and most accommodating veterinarian to which I have ever taken a pet! Dr. Cornett provides the highest quality care in the most compassionate matter to both the pet and the owner. Thorough exams and taking time to explain each and every possible treatment option is Dr. Cornett's normal style of practicing medicine. This past fall I moved out of Carroll County to another state. I know one of the greatest losses for both my pets and myself is the lost of Dr. Carolyn Cornett as our veterinarian. There is no way I will never find a Vet as wonderful and knowledgeable as Dr. Carolyn Cornett. Carroll County is extremely lucky to have her."
— Lynn White